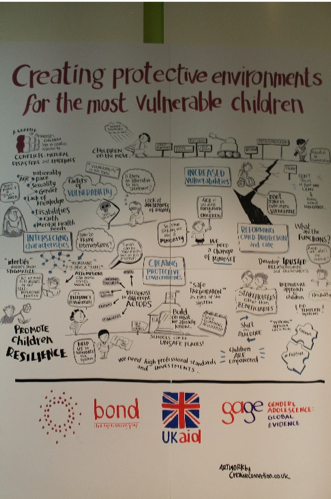 To commemorate Universal Children's Day 2018, the Bond Child Rights Working Group, the Department for International Development (DFID) and the GAGE Programme brought together professionals from across the humanitarian and development sectors to discuss how to create protective environments for the most vulnerable children, affected by exploitation, war, violence or conflict.
The event opened with a speech delivered on behalf of Harriett Baldwin, Minister of State for Africa and for International Development (who was unable to attend due to urgent Parliamentary business), outlining DFID's approach to developing sustainable child protection systems around the world. Fiona Samuels, GAGE Qualitative Hub Lead of Nepal then chaired a discussion with practitioners who discussed how marginalised children are failed by 'formal systems' and by 'informal systems' such as communities and families.
Participants then heard directly from those with first-hand experience of growing up in venerable circumstances. Mimi, a War Child youth advocate, shared her experiences in Libya during the reign of Gaddafi and through the Arab Spring. Rukhiya Budden, ambassador for Hope and Homes for Children, spoke powerfully about the neglect and abuse she experienced while growing up in an orphanage in Kenya.
For GAGE, the event was an opportunity to share our report and policy note on adolescent exploitation. The research findings highlight the need to take a dual pronged approach that uses a broad lens, to identify and challenge child and adolescent exploitation in all its forms, while systematically disaggregating its underlying causes and effects by gender, age, disability and other indicators of social exclusion. Framed by the SDGs, the report discusses the magnitude and patterning of child labour and looks at promising entry points to tackle adolescent labour and exploitation.